News: College of Pharmacy
---
California Northstate University Receives Final Approval on North Natomas Medical Center Campus
California Northstate University (CNU) is proud to announce that it has received final approval on its proposed North Natomas Medical Center Campus by the Sacramento City Council during last night's meeting.
CNU's proposed Medical Center Campus at Innovation Park is a new development project headed by the Sacramento Kings organization that will transform 35 acres of the 170-acre former Sleep Train Arena in North Natomas into a vibrant mix of residential, commercial, health and educational uses. [Read More]
---
California Northstate University Receives Unanimous Support on Proposed Medical Center Campus from Sacramento Planning and Design Commission
On Jan. 13, the Sacramento Planning and Design Commission unanimously recommended that the Sacramento City Council approve California Northstate University's (CNU) proposed Medical Center Campus at Innovation Park. [Read More]
---
New use for Sacramento's Sleep Train Arena site revealed: 'A hub of innovation'
Kings officials said they will turn over 35 acres of land, including the arena, to the locally based California Northstate University group to construct a major teaching hospital, trauma center and medical school that could bring up to 3,000 jobs as well as housing to the now unused site. [Read More]
---
Congratualtions to Kayla McCann
2021 United States Publics Health Service Excellence in Public Health Pharmacy Award Receipient
The Excellence in Public Health Pharmacy Award is issued by the Pharmacist Professional Advisory Committee (PharmPAC) of the United States Public Health Service (USPHS). This award was signed by Rear Admiral Ty Bingham, Assistant Surgeon General and Chief Professional Officer, Pharmacist, of the USPHS. This prestigious and competitive nation award recognizes pharmacy students who have made significant contributions to public health by promoting wellness and healthy communities.... [Read More]
---
California Northstate University [CNU] announced its Elk Grove campus has been designated as one of the primary sites for COVID-19 vaccination for the public in the Sacramento region. The clinic will open to the public through appointment if you fall into Phase 1A on Jan. 15...
...selected because "its pharmacy students and interns are trained and certified to administer vaccines. It also has ultra-low temperature storage freezers required to preserve the Pfizer-BioNTech vaccine safely before use."... [Read More]
---
...COP students provided flu vaccinations for people living in the unsheltered community answering any questions they had about flu immunizations and other health concerns. This was an amazing learning opportunity for the students, who were humbled to learn more about the unique challenges this vulnerable population experiences on a daily basis... [Read More]
---
…California Northstate University (CNU) announced that its College of Pharmacy (COP) has been ranked No. 4 in the state in the recently published California State Board of Pharmacy report for passing rates on the latest California Practice Standards and Jurisprudence Examination for Pharmacists (CPJE).
The results demonstrate the effectiveness of new strategies for curriculum improvement and individual competency assessment. Passing the CPJE is one of the required components to practice as a pharmacist in the State of California… [Read More]
---
...The hospital bed shortage will not go away once Covid-19 is vanquished. The reality is that we need more hospital beds to meet future demand, keep pace with the region's growing population and prepare for public health crises that will inevitably strike again. As leading epidemiologists and public health organizations point out, the coronavirus will not be the last pandemic. In fact, steadily growing global travel and commercial, cultural and political interdependence among nations will make the onset of new viruses impossible to avoid...[Read More]
---
Medical school deans around the nation are seeing what they are calling the "Fauci Effect," as the number of applications at their medical schools have skyrocketed to unprecedented levels, according to the Association of American Medical Colleges...
...Dr. Joseph Silva, dean of the medical school at California Northstate, has known Fauci since they were both fellows in the study of infectious diseases in 1969, back before it was a subspecialty...[Read More]
---
…California Northstate University (CNU) announced that it has established the President Academic and Diversity Scholarship, in a partnership between the CNU President's Office and Duruisseau Foundation, a nonprofit established by Dr. Shelton Duruisseau, CEO of Quantum Care Place, Inc., a senior care and housing company, and former Vice President for Diversity & Community Engagement at the UC Davis Health System… [Read More]
---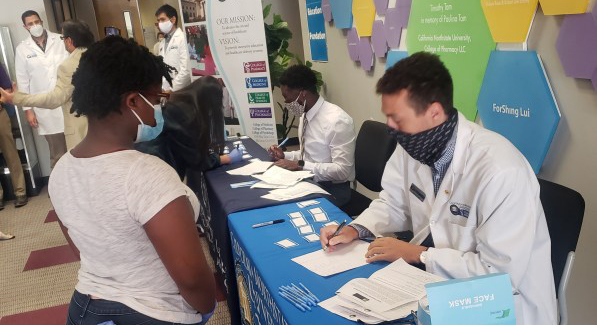 "Diversity and inclusion aren't just buzzwords for Elk Grove's California Northstate University (CNU) College of Medicine.
The four-year MD program whose mission is to "Advance the Art and Science of Medicine through Education, Service, Scholarship, and Social Accountability" put words into action this week as it kicked off its "Diversity in Medicine Camp." In partnership with Asian Pacific Islander American Public Affairs Association (APAPA) and tech giant Intel Corporation, the youth focused summer camp is CNU's most recent effort to bring more minorities into the field of healthcare…" [Read More]
---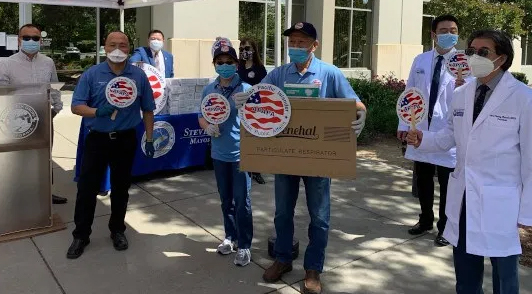 "…15,500 surgical masks, 100 goggles, 100 face shields, and gel sanitizers have been given to senior care facilities, the Elk Grove Food Bank, and Methodist Hospital of Sacramento. 7,500 of the masks are for senior care and residential facilities in Elk Grove, and 4,000 each will go to Methodist Hospital and Elk Grove Food Bank. The ceremony and pick up of the materials also observed social distancing practices…" [Read More]"