Interprofessional Education and Practice
Best practices in U.S. healthcare models encourage interprofessional collaboration, co-operation, and communication.
According to the 2010 definition of the World Health Organization, "Interprofessional education occurs when students from two or more professions learn about, from and with each other to enable effective collaboration and improve health outcomes."
CNUCOP has created a comprehensive, integrated IPE curriculum that includes the CNU College of Medicine, College of Health Sciences, College of Psychology and our partner institutions, Sacramento State University School of Nursing and the Samuel Merritt University School of Nursing. CNUCOP students participate in at least one IPE event each year of their didactic program.
---
Introducing the interprofessional education (IPE) program and facilities at CNU
Attention Google Chrome users be sure to unmute the video!
---
CNUCOP on the Frontline for COVID-19 Vaccinations
The CNUCOP Office of Curriculum and Program Development is proud of the recent COVID-19 vaccination program at the University – under the visionary leadership of Dean Feng, and with support of the university leadership, especially President Alvin Cheung, CNUCOP has partnered with CNUCOM in true interprofessional practice. Our pharmacy students are at the frontline for providing COVID-19 vaccination to first responders and the general public. This concerted interdisciplinary work was realized through the strong support and commitment of CNUCOP faculty such as Drs. Jeffrey Nehira, Erika Titus-Lay, Jennifer Courtney, Bin Deng, Victor Phan, Matthew Horton, Tarek Kassem, and others, and our dedicated staff, and pharmacy students. Together with CNUCOM faculty, staff, and students, we have provided COVID-19 vaccination to hundreds of local area residents. Our service was covered by ABC News and CNU was designated COVID-19 clinic status by the state of California.
The video below showcases the first day of vaccination in early January 2021.
ACPE and ACCME-Accredited Continuing Education Program on COVID-19 Immunization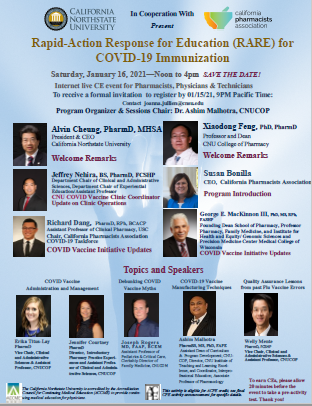 On Saturday, January 16, 2021, the Office of Curriculum and Program Development at CNUCOP, in cooperation with California Pharmacists Association (CPhA) organized and hosted an accredited continuing education event called "Rapid-Action Response for Education (RARE) for COVID-19 Immunization". The live, synchronous CE event hosted prominent state and national speakers who shared their perspectives and experiences regarding the organization and implementation of COVID-19 immunization.
The event was envisioned by Dean Feng, and introductory remarks were made by the CEO of CPhA, Ms. Susan Bonilla, who praised CNUCOP for its dedication in service to the profession of pharmacy. Keynote speakers at the event included Dr. Richard Dang from the University of Southern California's School of Pharmacy, who is chairing the state of California's task force on COVID-19 appointed by Governor Newsom and Dean George MacKinnon III, Dean of the Wisconsin College of Medicine's School of Pharmacy, who shared perspectives from the Badger State.
The event also included CNUCOP faculty experts Drs. Erika Titus-Lay, Jennifer Courtney, Welly Mente, Ashim Malhotra and CNUCOM physician faculty member Dr. Joseph Rogers in sharing information about different aspects of COVID-19 immunization. The event also included comments from CNUCOP's Chair of Clinical and Administrative Sciences, Dr. Jeffrey Nehira, regarding efforts for the COVID-19 vaccination clinic. Please find a flyer attached that highlighted this very well-attended event.
...COP students provided flu vaccinations for people living in the unsheltered community answering any questions they had about flu immunizations and other health concerns. This was an amazing learning opportunity for the students, who were humbled to learn more about the unique challenges this vulnerable population experiences on a daily basis... [Read More]
---
Leading Transformation of Pharmacy Practice: IPE Grand Round in Stroke Management and Transitions of Care
To facilitate the acquisition of the knowledge and skills for the interprofessional care and clinical management of stroke and transitions of care (TOC), an IPE Grand Round activity (IPE-GR) was implemented in February 2020. Developed collaboratively by faculty in the CNU colleges of pharmacy, medicine, and psychology, and led by the CNU IPE Director, Dr. Malhotra, IPE-GR saw 96 M1, 129 P3, and 8 Psy2 (233) students participate in a Case-Based Learning. IPE-GR was implemented in 11-13 membered interprofessional teams. Our grand round was led by Dr. ForShing Lui, the Chair of the Clinical Sciences Department at the CNU College of Medicine and Dr. Jeffrey Nehira, Chair of the Clinical and Administrative Sciences Department at the CNU College of Pharmacy. IPE-GR unfolded in three phases: ER presentation, hospital admission, and discharge and facilitated the development of skills for 1) acute care management, 2) pathophysiology comprehension and pharmacotherapeutic management, 3) TOC, and 4) interprofessional teamwork and communication. Pre-reading included the 2019 AHA/ASA clinical guidelines for acute ischemic stroke management and content from previous years. IPE-GR commenced with a pre-recorded patient evaluation video by a neurologist in the acute care setting, and a lecture with integrated IPE case-based questions. Performance was evaluated using a post-quiz and post-activity confidence and student perception surveys.
---
CNU Interprofessional Education Newsletter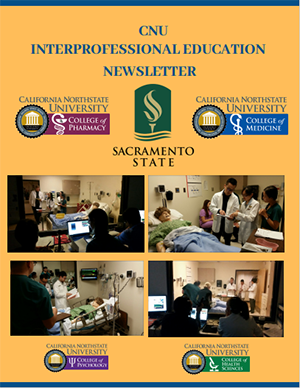 Updating the Community: CNU's Interprofessional Education and Practice Annual Newsletter

Under the aegis of the Office of the CNU Vice President of Academic Affairs, the Director of the CNU Institute of Teaching and Learning Excellence (ITLE) develops CNU's annual Interprofessional Education and Practice Newsletter.
This newsletter was started as a means to communicate with various stakeholders the advances in IPE and IPP at CNU. The newsletter has commentary from CNU's administration, faculty, staff and students engaged in IPE and IPP and from our collaborators such as the Sacramento State University School of Nursing.
The CNU IPE and IPP Newsletter showcases our simulation facilities and the collaborative effort for ensuring practice readiness for our pharmacy, medicine and other healthcare graduates.