Uyen Minh Le, PharmBS, PhD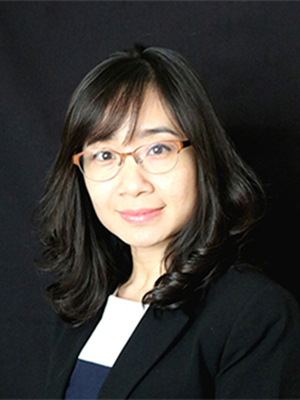 Chair of Department of Pharmaceutical and Biomedical Sciences
Associate Professor- Pharmaceutics
Phone: (916) 686-8552
Uyen.Le@cnsu.edu
---
About
Dr. Le is the chair and associate professor in the Department of Pharmaceutical and Biomedical Sciences at California Northstate University College of Pharmacy (CNUCOP). Prior to joining CNUCOP, she was an associate professor at Sullivan University College of Pharmacy (SUCOP). She got her B.S. in Pharmacy and M.S. in Pharmaceutical Sciences, both from Ho Chi Minh City University of Medicine and Pharmacy. She obtained her Ph.D. from Oregon State University College of Pharmacy, major in pharmaceutical sciences and minor in statistics.
Dr. Le has taught different courses of physical pharmacy, pharmaceutics, biopharmaceutics, pharmacokinetics, and pharmaceutical compounding. Under her coaching, SUCOP team won the champion title at the 2016 National Student Pharmacist Compounding Competition.
She has served as the co-chair of the assessment committee in the AACP Laboratory Instructors Special Interest Group in 2017-2018. She was also the advisor to the AAPS student chapter and served as member of committees such as graduate, accreditation, admission, curriculum, co-curriculum, planning and assessment, promotion, and faculty development.
Dr. Le has published various peer-reviewed journal articles and book chapters as well as presented at different national/international conferences. Her laboratory research focuses on drug delivery, drug target, biomedical modeling and simulation, and data-mining in healthcare. Her pedagogical research interest includes assessment of learning and teaching.
Research Interest
Drug delivery/Drug target
Biomedical modeling and simulation
Datamining in healthcare
Pharmacy education assessment
Scholarship
B Loo, H Nguyen, UM Le. Antioxidant nutraceuticals for skin care. Antioxidant Nutraceuticals: Preventive and Healthcare Application. CRC Press. 2017
UM Le, K Spio, G Pillai. Current pharmaceutical compounding for neuropathic pain. BAOJ Pharmaceutical Sciences. 2016; 2(2): 22-25
UM Le, Y Pathak, HT Tran. Methods for polymeric nanoparticle conjugation to monoclonal antibody. Antibody Mediated Drug Delivery Systems: Concepts, Technology, and Applications. John Wiley & Sons. 2012; 1: 351-364.
UM Le, Y Pathak. Nutraceuticals: Advancing in a right direction. Handbook of Nutraceuticals. CRC Press. 2011; 2:1-14.
GLM Bui, UM Le, HT Tran, Y Pathak. Delivery of herbal extracts and compound using nanotechnology. Advances in Nanotechnology & Application. Centera. 2010; 2: 121-136.
UM Le, HT Tran, Y Pathak. Nanoparticles in transdermal drug delivery. Advances in Nanotechnology & Application. Centera. 2009; 1: 146-155.
UM Le, DG Kaurin, BR Sloat, ZR Cui. Localized irradiation of tumors prior to synthetic dsRNA therapy enhanced the resultant anti-tumor activity. Radiother Oncol. 2009 Feb; 90(2):273-9.
UM Le, DS Shaker, BR Sloat, ZR Cui. Thermo-sensitive polymeric gel containing a gadolinium (Gd) compound encapsulated into liposomes significantly extended the retention of the Gd in tumors. Drug Development and Industrial Pharmacy. 2008; 34(4):413-8.
UM Le, N Yanasarn, CV Loehr, KA Fischer, ZR Cui. Tumor chemo-immunotherapy using gemcitabine and a synthetic dsRNA. Cancer Biology & Therapy, 2008; 7(3):440-7.
BR Sloat, DS Shaker, UM Le, ZR Cui. Nasal immunization with the mixture of PA63, LF, and a PGA conjugate induced strong antibody responses against all three antigens. FEMS Immunology & Med Microbiology. 2008; 52(2):169-79.
DS Shaker, BR Sloat, UM Le, CV Loehr, N Yanasarn, KA Fischer, ZR Cui. Immunization by applying DNA vaccine onto a skin area where the hair follicles are induced into anagen-onset stage. Molecular Therapy. 15(11):2037-43, 2007.
ZR Cui, UM Le, F Qiu, DS Shaker. Learning from viruses: the necrotic bodies of tumor cells with intracellular synthetic dsRNA induced strong anti-tumor immune responses. Pharmaceutical Research. 24(9):1645-52, 2007.
UM Le, ZR Cui. Biodistribution of Gadolinium (Gd) encapsulated in long-circulating liposomes in tumor-bearing mice: effects of tumor type, dosing schedule, and tumor size on the uptake of Gd by tumors. International Journal of Pharmaceutics. 320(1-2):96-103, 2006.
UM Le, ZR Cui. Long-circulating gadolinium-encapsulated liposomes for potential application in tumor neutron capture therapy. International Journal of Pharmaceutics. 312(1-2):105-12, 2006.
Accomplishments and Awards
K-12 Outreach Award, AAPS, 2016-2018. Role: Faculty Advisor
The Champion, National Student Pharmacist Compounding Competition, 2016. Role: Coach
Innovation Award to pharmacy students, SUCOP, 2016. Role: Preceptor/Advisor
Outstanding Reviewer, Journal of Nanomedicine: Nanotechnology, Biology, and Medicine (NBM), 2015 - 2016
The James Ayres -OSU College of Pharmacy award, 2007
Oregon Sports Lottery Scholarship, 2007