Islam Mohamed, PharmBS, MS, PhD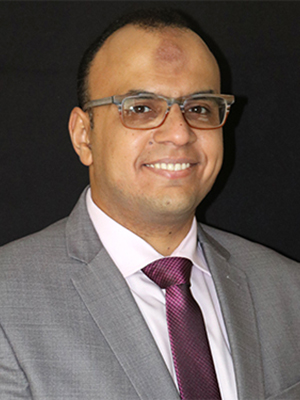 Department of Pharmaceutical and Biomedical Sciences
Assistant Professor-Biomedical Sciences
Phone: (916) 686-8537
Fax: (916) 686-8142
islam.mohamed@cnsu.edu
---
About
Dr. Islam Mohamed is an Assistant Professor in the Department of Pharmaceutical & Biomedical Sciences at California Northstate University College of Pharmacy (CNUCOP). Dr. Mohamed received his Bachelor of Pharmacy and Pharmaceutical Sciences from the College of Pharmacy, Ain-Shams University, Egypt, in 2005. After which, he joined the Department of Pharmacy Practice and Clinical Pharmacy at the Faculty of Pharmacy, Misr International University in Egypt as a teaching assistant, where he taught multiple classes for Pharmacy students including pharmactherapy and advanced therapeutics, clinical pharmacology, drug information and drug interaction courses. In fall 2008, he was awarded a full Fulbright Scholarship for his MS in Neuroscience from State University of New York at Buffalo (SUNY Buffalo). In summer 2014, Dr. Mohamed earned his PhD in Clinical and Experimental Therapeutics from the College of Pharmacy, University of Georgia. His pre-doctoral research was focused on the interaction between obesity and insulin resistance in retinal microvascular degeneration. 2014-2017, Dr. Mohamed joined the Division of Cardiology, Emory University School of Medicine, in Atlanta, GA, where he finished his post-doctoral training and also practiced his Pharmacy Intern Training at Emory University Hospital Midtown, towards earning his registered Pharmacy license (RPh). His Post-doctoral research focused on the role of vascular micro-RNAs in the development of atherosclerosis using a novel surgical model for acute induction of low magnitude turbulent shear stress. Dr. Mohamed was awarded the prestigious American Heart Association Fellowship twice; at both the Pre- and Post-doctoral levels. In addition, his research efforts resulted in a total of 9 original research articles and more than 20 abstract and oral presentations in international research conferences. His current research interests involve the micro- and macrovascular complications of obesity, diabetes and the role of vascular micro-RNAs in shear-stress induced atherosclerosis.
Research Interest
Vascular micro-RNAs and development of atherosclerosis
Interaction between metabolic and vascular diseases
Micro- and macrovascular complications of obesity, diabetes and insulin resistance
Scholarship
Research Articles
Dandona P, Mohamed I, Ghanim H, Sia CL, Dhindsa S, Dandona S, Makdissi A, Chaudhuri A. Insulin suppresses the expression of amyloid precursor protein, presenilins, and glycogen synthase kinase-3beta in peripheral blood mononuclear cells. J Clin Endocrinol Metab. 2011 Jun; 96(6):1783-8.
Mohamed IN, Soliman SA, Alhusban AA, Matragoon S, Pillai BA, Elmarakby AA, El-Remessy AB. Diabetes exacerbates retinal oxidative stress, inflammation and microvascular degeneration in spontaneously hypertensive rats. J Molecular Vision. 2012 Jun;18:1457-66.
Mohamed IN, Hafez SS, Fairaq A, Ergul A, Imig JD, El-Remessy AB. Thioredoxin interacting protein is required for endothelial NLRP3-inflammasome activation and cell death in a rat model of high fat diet. Diabetologia. 2014 Feb;57(2):413-23.
El-Azab MF, Baldowski BR, Mysona BA, Shanab AY, Mohamed IN, Abdelsaid MA, Matragoon S, Bollinger KE, Saul A, El-Remessy AB. Deletion of TXNIP Preserve Retinal Neuronal Function by Mitigating Inflammation And Vascular Injury. Br J Pharmacol. 2014 Mar; 171(5):1299-313.
Ishrat T, Mohamed IN, Pillai B, Soliman S, Fouda AY, Ergul A, El-Remessy AB, Fagan SC. Thioredoxin interacting protein: A novel target for neuroprotection in experimental thromboembolic stroke in mice. Mol Neurobiol. 2014.
Mysona BA, Matragoon S, Stephens M,2 Mohamed IN, Farooq A, Bartasis ML, Fouda AY, Shanab AY, Espinosa-Heidmann DG, El-Remessy AB. Imbalance of the nerve growth factor and its precursor as a potential biomarker for diabetic retinopathy. BioMed Research International, 2015.
Coucha M*, Mohamed IN*, Elshaer SL, Mbata O, Bartasis ML, El-Remessy AB. High fat diet dysregulates microRNA-17-5p and triggers retinal inflammation: Role of ER-stress. World J Diabetes. 2017 Feb 15;8(2):56-65 (*Equal contribution).
Elshaer SL*, Mohamed IN*, Coucha M*, Altantawi S, Eldahshan W, Bartasis ML, Shanab AY, Lorys R, El-Remessy AB. Deletion of TXNIP mitigates high fat diet-impaired angiogenesis and prevents inflammation in a mouse model of critical limb ischemia. Antioxidants, (accepted June, 2017) (*Equal contribution).
Review Articles
Mohamed IN, Ishrat T, Fagan SC, El-Remessy AB. Role of Inflammasome Activation in the Pathophysiology of Vascular Diseases of the Neurovascular Unit. Anti-oxidant and Redox signaling (forum review article), 2015.
Accomplishments and Awards
2008: Fulbright MS full Scholarship.
2012: American Heart Association (AHA) Pre-doctoral Fellowship.
2012 & 2013: University of Georgia graduate school Travel Award, for presentation at the Association of research in vision and ophthalmology (ARVO) meeting.
2013: Foreign Pharmacy Graduate Equivalence Certification.
2013: First place for best student poster presentation at both; the VA Medical center in Augusta and the University of Georgia research days.
2015: First place for best postdoctoral poster presentation; the office of postdoctoral education (OPE) research day, Emory University.
2016: Selected oral presentation, American Heart Association (AHA) Scientific Sessions conference.
2016: Travel Award for Young Investigators; Council on Arteriosclerosis, Thrombosis, and Vascular Biology (ATVB), American Heart Association (AHA) Scientific Sessions conference.
2017: American Heart Association (AHA) Post-doctoral Fellowship.